Vor Kurzem bin ich auf etsy immer wieder über dasselbe Bild gestoplert - obwohl es eigentlich das Gemälde im Hintergrund bewirbt, hat mir diese Golddekorationsfigur einfach super gefallen:
Lately I've been stumbling across the same picture on etsy - although it's advertising the painting in the background I really fell for the brass decoration item: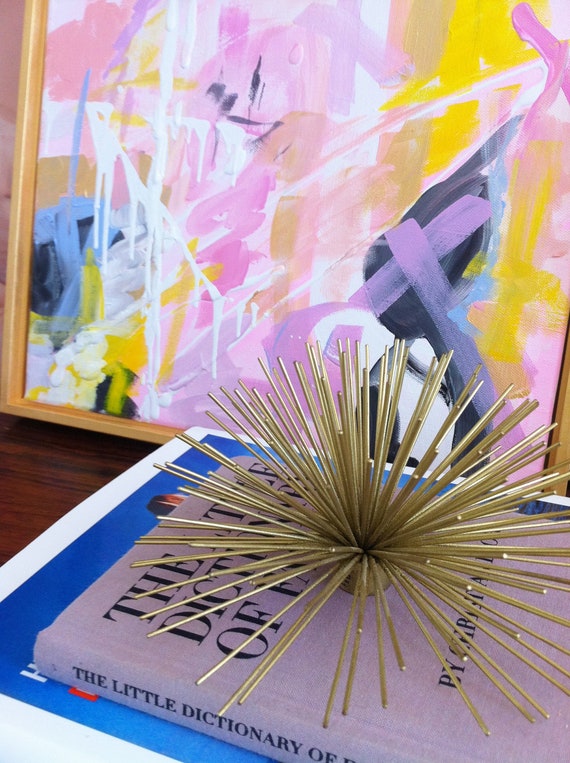 Natürlich erstaunt es nicht, dass die Göttin der Inneneinrichtung, Kelly Wearstler, auch solche Dekorationsfiguren macht... Ich habe unter den Suchbegriffen "Goldigel" und "Goldkaleidoskop" nun noch diese weiteren Bilder gefunden und ich muss sagen, ich muss so ein Ding haben! Mit Kaufen wird's in unseren Gefilden wohl schwierig und die Versandkosten aus den USA sind nicht wirklich günstig. Und dann kommen ja auch noch Zollgebühren hinzu... Ich bin also schwer am ausbrüten, wie ich so was selber machen könnte. Vielleicht mit einem Lehmklumpen, Schaschlik-Spiessen und Goldspray? Oder hat jemand eine bessere Idee?
It's not very surprising to me that the Goddess of Interior Design, Kelly Wearstler, also makes these decoration items... Searching with the keywords "gold urchin" and "brass kaleidoscope" I found the following additional pictures and I must say, I need one of these! Sadly I will most propably not find them near where I live and shipping charges from the United States can sometimes be pricey, plus I would have to pay customs for it. So my head has been smoking with ideas to make this on my own. Maybe with a lump of concrete, wooden spits and gold spray? Or does anyone have a better idea?
Bild über pinterest; Quellenlink hier
Bild über pinterest; Quellenlink hier
Bild über my vibe my life; Quellenlink hier